To schedule an appointment with a Multilingual Achievers Program or United for Success Specialist through LoboConnect, use the instructions below or check out our step-by-step video.
Log on to sonoma.edu and the SSU online services page
Choose the LoboConnect icon
​

Select the Schedule an Appointment link on the right side of the page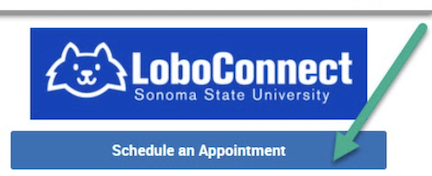 This will take you to the start of the student scheduling process.
Select the option to schedule a TRIO Student Support Services Appointment from the drop-down menu. Choose Next when you are ready to proceed to the next page.
Select Multilingual Achievers Program or United for Success (whichever program you're enrolled in) for the location.
Select the type of appointment you wish to schedule (i.e., math tutoring, writing tutoring, etc.)
The blue boxes on the scheduling menu show available appointments and allow you to choose a time to meet. Use the right arrows to see appointments available for another week. Choose Next after you have selected an appointment time.
Add a comment if there is anything you would like the specialist to know about the appointment or to provide further details about the reason for the appointment. Confirm your appointment reminder options.
Choose Confirm Appointment to schedule the appointment
Prefer Not to Use Loboconnect?
You can email us to request an appointment at triosss@sonoma.edu. Include the following information in your email:
The type of appointment you would like or what the appointment is for
The name of the staff you want to see (if you have a specific preference)
Two or three days/times when you are available
Whether you want an in-person or Zoom appointment or don't have a preference
Schedule In-Person
If you prefer to schedule an appointment in person, please stop by our front desk in Salazar 1119, the Center for Academic Access & Student Enrichment. We are open Monday-Friday, 8 am - 5 pm.